Texting While Driving in North Carolina
There are many traffic offenses in North Carolina. These traffic offenses range from reckless driving to failure to wear a seat belt. The consequences for these traffic offenses can range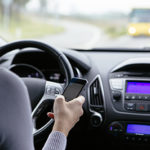 from license suspension to paying a fine. This will depend on the citation. Many people forget that certain cell phone usage while driving is also considered a traffic offense in North Carolina. Cell phone usage has become such a staple in our day to day lives, and while it is useful, it can be very distracting. Accordingly, texting while driving is illegal in North Carolina.
It is a common misconception that all cell phone usage is illegal while driving. While this may be true in some states, each state regulates their own laws regarding cell phone usage while operating a vehicle. In North Carolina, it is illegal to text (or email) while driving.
What type of phone usage is illegal in North Carolina?
North Carolina defines texting while driving in N.C.G.S. § 20-137.4(A). It is illegal to:
Use a cell phone for text messaging or electronic mail (e-mail).
It is unlawful for any person driving a vehicle to type, send, or read any text messages or electronic mail received or stored in the mobile device.
Manually enter multiple letters or text in the device as a means of communicating with another person
Exceptions
It is important to know there are exceptions to this law. The exceptions are the following:
The operator of the vehicle is lawfully parked or stopped
Any of the following public servants texting while in the performance of their official duties: a law enforcement officer; a member of a fire department; or the operator of a public or private ambulance.
The use of factory-installed or aftermarket global positioning systems (GPS) or wireless communications devices used to transmit or receive data as part of a digital dispatch system.
The use of voice operated technology
Consequences
Texting while driving traffic violations are punishable by a fine and court costs. If the offense is committed by someone operating a school bus, it shall be punishable as a Class 2 misdemeanor and a fine of no less than $100. No driver's license points or insurance points will be assessed as a result of this violation.
Regardless of the severity of the traffic offense, it is always in your best interest to contact a traffic attorney when you receive any traffic ticket. If you have questions about your traffic offense, give the traffic lawyers at Gilles Law a call to see how we can help you.