Arson Charges in North Carolina
This blog explores arson charges in North Carolina.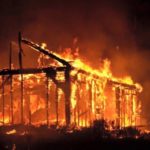 Property crimes are common. We hear about them constantly, sometimes leading the public to believe they are not heavily punishable. In North Carolina, arson is a very serious property crime that may lead to possible jail time.
Degrees of Arson
North Carolina G.S .§14-58 defines arson as "willfully and maliciously burning of another's house or dwelling" and it is categorized in two degrees.
The most serious form of arson charges is first degree arson. This means the house or dwelling was occupied at the time of the offense and is punished as a Class D felony.
Second degree arson is the burning of a house or dwelling that is unoccupied and is punishable as a Class G felony.
Note that the statute also defines "house" to include "mobile and manufactured type housing and recreational trailers".
Different Types of Arson
Depending on the circumstances and facts surrounding the house or dwelling, the class of the felony could become more severe. This is true even if arson is committed in an unoccupied dwelling.
The following forms of arson are punishable as Class E felony:
Burning of churches and other religious buildings
Arson or other unlawful burning that results in serious injury to firefighter or emergency medical technician
The following forms of arson are punishable as Class F felony:
Burning of certain public buildings
Burning of schoolhouses or buildings of educational institutions
Burning of certain bridges and buildings
Burning of certain buildings
The following forms of arson are punishable as Class H felony:
Burning of building or structure in process of construction
Burning of boats and barges
Burning of ginhouses and tobacco houses
Fraudulently setting fire to dwelling houses
Burning of other buildings (not otherwise covered)
Always keep in mind the house or dwelling does not have to be destroyed in order to be charged with arson. There must be "charring," which occurs when part of the building or dwelling is reduced to coal and its identity has changed.
If you are facing arson charges contact a criminal defense attorney immediately to discuss your options. The criminal defense attorneys at Gilles Law can help you better understand your charges and options. Call us at 980-272-8438.